Showing 1–12 of 16 results
IFTA Fuel Tax Software Buyer's Guide
To stay competitive in the trucking business, it is very important for the fleet operating companies or individual owner-operators of the trucks to simply adhere to the laws and regulations of the government. It is the fleet manager's responsibility to keep the fleet in compliance with all the regulations and certifications. International fuel tax agreement or IFTA is one of them.
International fuel tax agreement or IFTA is the contract between the 48 U.S. states as well as the Canadian provinces in a reciprocating manner in relation to fuel usage and tax payments by the motor carriers. IFTA allows interstate motor carriers to pay their fuel usage tax owed to each state using a single fuel tax license.
Which Type of Vehicles Falls Under IFTA Regulations?
IFTA license is not mandatory for each vehicle owner. You need to get an IFTA license if your vehicle travels through multiple states. IFTA is required if your motorized vehicle is used for commercial purposes. IFTA is mandatory for a motorized vehicle with two or more axles and gross weight is more than 26000 pounds.
How to Register for IFTA?
To comply with IFTA regulations, you need to apply for the IFTA permit first. After the filing of the application or a permit, they will send you the IFTA decal for your vehicle. You can access the IFTA application from any state tax website. The fee associated with the IFTA permit varies state by state.
How to Calculate IFTA Tax?
It is very important to know how much fuel tax you owe to each state. Calculations are tricky but not all that difficult if you follow a few steps very accurately. The most important thing is the accurate number of miles driven in a quarter and the amount of fuel consumed in that particular quarter. Once you have these numbers, with the help of Etrucks Software you can find out the average miles per gallon of your vehicle.
With the help of MPG, you can obtain the amount of fuel spent while driving in each state. Then you can multiply that amount of fuel with the tax rate of that state, which will effectively give you the amount of tax you owe to that particular state. In his way, you can find the tax amount you owe to each state.
To keep these calculations very accurate, you must record each and every mile your vehicle drives through every state and the fuel purchased during that time period.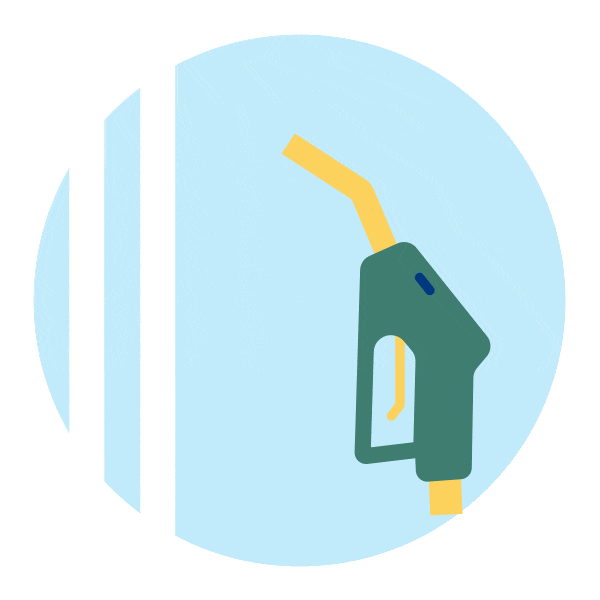 How Does It Work?
IFTA not only benefits the fleet companies but also the participating state by accurately compensating them for the correct amount of fuel tax owed to them. With IFTA registration, truck operators need to file the IFTA tax only to their base state and that state will compensate the other state for their share of fuel tax accurately. The base state is also responsible for ensuring the fleet operators are following the IFTA guidelines.
When Is the Due Date for Filing IFTA Reports?
IFTA tax reports must be filed quarterly with the help of ifta fuel tax software. The due date or the last date of filing IFTA tax report is the last date of the next month after the end of the quarter.
The IFTA tax report filing date for the first quarter (January to March) is April 30th.
For the second quarter (April to June), it is July 31st.
For the third quarter (July to September), the last date is October 31st.
And for the last quarter of the year (October to December), the last date of filing IFTA reports is January 31st.
You have to pay the late fee in case of late filing of the IFTA tax reports.
How to Avoid Penalties and Simplify Reporting
IFTA regulations required the motor carriers to report the fuel usage for each quarter to their home or base state. Motor carriers must submit their quarterly IFTA tax reports to their base state. Once you filed your IFTA tax reports, you are required to pay tax in case of tax owed and receive a refund in case of no tax owed to the state.
If you don't file your IFTA reports on time then you will be penalized for that and you have to pay a fine. Therefore, you need to file your IFTA reports on time to avoid any penalties.
International fuel tax agreement makes it easier for the fleet companies to pay the fuel tax. There are few tools that can help you simplify IFTA reporting.
Fleet Card
Fleet cards offered by many credit card companies provide you a very easy tool to track the fuel expense and the statement of the fuel purchased is very easy to download. Miles per gallon and the expense per mile are calculated for each transaction and simplify your IFTA reporting.
Mileage Report With the Help of Latest Softwares
There are so many latest softwares when integrated with GPS that can generate mileage reports for you and save you from the big headache of calculating everything manually. The Bolt Software can track every single mile driven in each state and you don't even need a logbook to track your miles. This will simplify the whole process of IFTA tax report filing.
International fuel tax agreement is the Godsend blessing for fleet operators. Previously, they needed to pay the tax individually to each state they traveled to. This was a very time-consuming and tedious process but IFTA eliminates all those difficulties.
All fleet and transportation companies need to calculate the cost per mile of their vehicles. This ticket app helps you to make better business decisions. It calculates the cost per mile of a vehicle by taking into account many things. You have to fill in details like total miles covered, cost of fuel per mile, and total fuel consumed.
What Is the Importance of a Cost Per Mile Calculator?
By knowing your company vehicles cost per mile, you can make better decisions. This calculator plays a vital role in the success of your delivery operations. It maintains clarity in business records. This helps the freight companies to file fuel and vehicle taxes. It saves a company from tax audits and defaults.
Video Credit –Load Mizer
3 Ways to Calculate Cost Per Mile:
1. Calculation by the Easy Method: This is the simplest way to calculate the cost per mile. You have to divide your total profit or loss by the total miles driven by your company vehicle. This will give you an idea about your fuel expense. It is, however, not the best way to calculate the total fuel cost. It is so because some expenses like maintenance costs are not actual expenses, and the profit and loss statements do contain the list of additional expenses.
2. By Listing Each Expense Individually: In this method, you have to list your company expenses separately. You have to list costs like driver salaries, fuel and vehicle expenses, insurance, worker compensations, maintenance costs, and miscellaneous. Miscellaneous or overhead expenses include parking costs, permits, tolls, and taxes.
3. Understanding Your Variable and Fixed Costs: A fleet company must understand its variable and fixed expenses. You cannot change your fixed payments much, for example, vehicle maintenance, IFTA taxes, and insurance. Variable costs depend on miles driven by the company vehicles. Its examples are fuel costs, driver payments, vehicle repair, and maintenance costs.
Advantages of Knowing Your Cost Per Mile:
1. Helpful to Understand When to Take a Load: This will help the companies decide if they need to load up. If you know about your variable and fixed costs, you can calculate your profit quickly. The companies will focus on covering their variable costs if they attain a shipping contract. This makes your business stable and helps you to recover from losses in no time.
2. Gives Idea if You Will Make Money in Your Business: This will help a company know they will establish themselves in the market. The freight managers can use the cost per mile to see if they will do business and attain profits. IFTA calculator gives an idea about the total business costs. For example, the owner can calculate the vehicle finance and insurance payments in advance.
3. Helps You Know the Problems in Advance: It helps the fleet business know about potential issues and solve them. If a fleet company's maintenance costs increase, they pay more at the repair shops than they should. Similarly, if the commercial vehicles are getting old, they cost a business too much money. This helps the companies to know if they are getting good deals in fuel and vehicle maintenance. They can change their services according to their budget. Understanding the cost per mile is essential for your business. Most people calculate this every three months, six months, or after a year.
Factors Affecting Cost Per Mile of a Vehicle:
1. Type of Vehicle: Cost per mile varies according to the size of a vehicle. Fleet companies use vehicles like trucks, trailers, pickups, vans, and cars to do their business. For example, trucks have a higher mile cost than vehicles.
2. Speed: Speed is an essential factor in calculating the cost per mile of a vehicle. Vehicle operating costs increase with the increasing speed and vice versa. The added speed brings changes in added costs to the company vehicles and increases a company's budget.
3. Road Surface: The roughness or smoothness of a road can affect vehicle maintenance costs. Rough surfaces cause damage to the vehicle parts and reduce its speed. This increases fuel consumption and wears the tires of the vehicle quickly. This adds to the maintenance costs and can harm a company's budget.
"There is more credit and satisfaction in being a first-rate truck driver than a tenth-rate executive" — B.C. Forbes
4. Vehicle Condition: The cost per mile of commercial vehicles also depends on their situation. Well maintained vehicles run on the roads for a longer time and provide more profits to a company. This helps a company manage its expenses and invest that money in expanding the business.
Many IT and software companies have designed many kinds of cost-per-mile calculators for vehicles of different sizes. The fleet companies can select the one according to their needs and budget. As this application is web-based, it leaves no place for errors of confusion. This helps to save the fleet company's time and money. A cost per mile calculator is easily installed in company vehicles. This can be operated with the help of computers and mobile phones. A vehicle mile cost calculator provides automatic updates about the vehicle to the owner and the drivers. They provide relevant numbers of miles covered and fuel consumed. This data is stored in freight company's databases and can be checked from time to time. This later helps to file the IFTA fuel tax and vehicle taxes. This saves your company from tax audits. This application is user-friendly and can be opted for by both drivers and workers.